Facebook Ban in Pakistan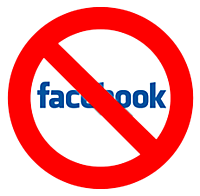 Sketches of Prophet Muhammad are considered an act of blasphemy by Muslims and this Facebook page has already incurred criticism from several Muslims. Pakistan's Law Minister Babar Awan said that "this issue will be raised on all international forums."
The fallout has already begun in Pakistan, where in the port city of Karachi and all major cities of Pakistan protestors have taken to streets protesting the Facebook page.
In 2006 after Prophet Muhammad's caricatures were printed in a Danish newspaper thousands of people took to the streets in Pakistan, burning banks, restaurants and gas stations affiliated with Western companies. Several people were killed and many wounded in the violent protests.
Pakistan Telecommunication Authority (PTA) has directed all concerned operators in Pakistan to block website www.facebook.com till further orders. These directions have been issued in compliance with the directions issued by Ministry of IT & Telecom (MoIT) in view of decision of the Honorable Lahore High Court (LHC). 
PTA has established a Crisis Cell to monitor all such contents. PTA's helpline toll free number 0800-55055 and email complaint@pta.gov.pk can be used to notify all similar URLs where such objectionable material is placed.